Riot Games has received the worst news a video game company can receive: a breach of your security breach that caused something hackers have obtained the source code of their flagship game: League of Legends.
This means that Riot Games, as confirmed on Twitter, is a hack or cyberattack last weekend, from January 21 to 23, causing, among other things delays in releasing patches.
As promised, we want to update you on the status of last week's cyberattack. Over the weekend, our analysis confirmed that source code for League, TFT, and an outdated anti-hit platform had been exfiltrated by the attackers.1/7 https://t.co/IogE05HaD1

— Riot Games (@riotgames) January 24, 2023
However, the most serious is the confirmation that the LoL and TFT code has been leaked, which means that future updates, improvements, game modes, champions and others are in the hands of the hackers.
Riot assures that these are all prototypes and many of the prepared things may not come true, but it is undoubtedly a delicate moment for the company, which also confirm email threats.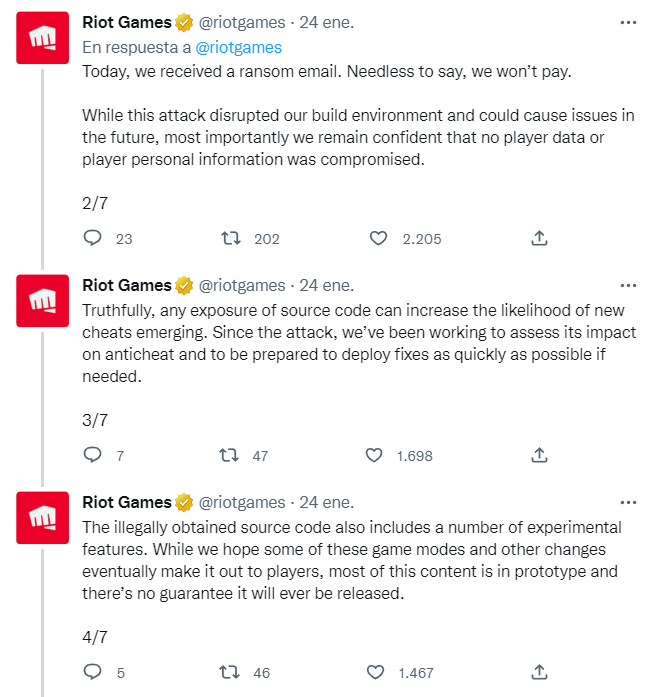 "Today we received a ransom mail, it goes without saying that we are not going to pay. The most important thing is that we are sure that no data and personal information of our players has been compromised."
Moreover, they take care of it the cheats and the hacks they can increase in the game, because they have the hole open and this one hackers they could sell the code for other types of people to make software illegal in LoL or TFT.
Be that as it may, they leave a message of hope: "We've made a lot of progress in the past week and we believe we'll fix everything soon," confirming that they'll provide more news once they've made it safe.
Source: Esports AS
I have been working in eSports Chimp for almost 5 years now. I have written different types of articles but I mostly focus on gaming news. It has always been my dream to work in eSports Chimp and I am grateful that I am able to do so.
I grew up playing video games and it has always been one of my passions. When I was younger, I never thought that I would be able to make a career out of it. But now, I am able to write about games and share my passion with others through my work.
I believe that there is a lot of potential in the world of eSports and I am excited to see how it grows in the future.