Disappeared from Steam two weeks ago Roots of Pacha is a gritty prehistoric farm simulator released on April 25th. The reason for his disappearance was a dispute between developer Soda Den and publisher Crytivo. Both sides accused each other of breaching the contract and embezzling the rights to the game.
Fortunately, they managed to reach an agreement and the title returned to Steam: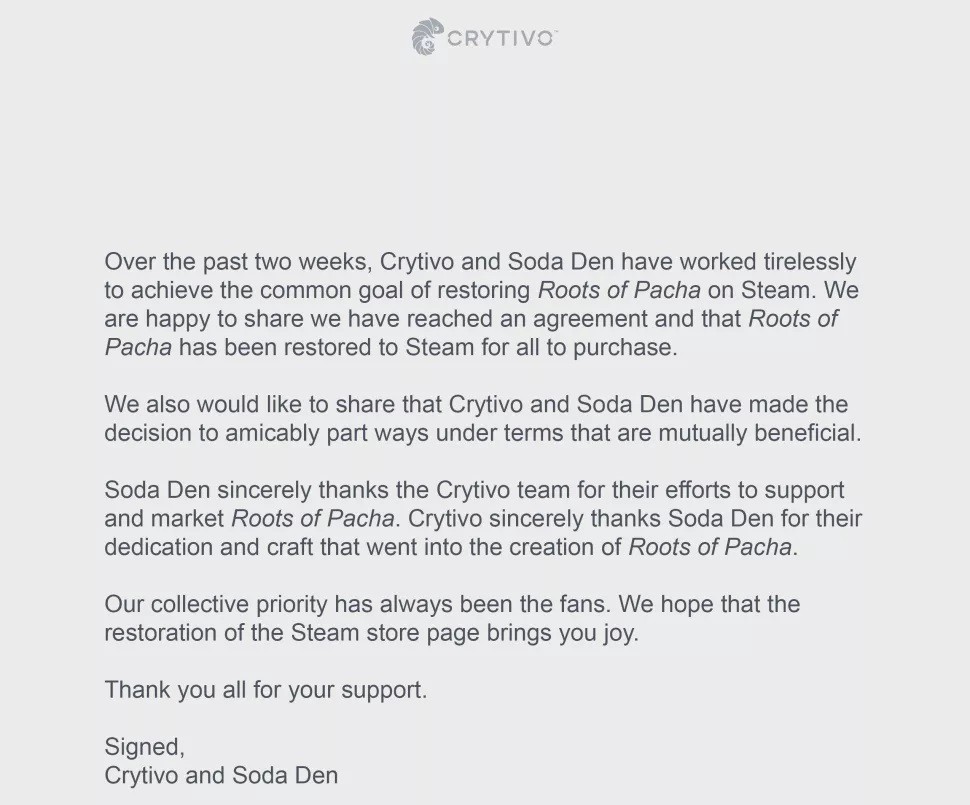 For the past two weeks, Crytivo and Soda Den have worked tirelessly towards a common goal: recovery Roots of Pacha on steam. We are pleased to announce that we have reached an agreement and that Roots of Pacha has been restored to Steam for all to enjoy. We also want to announce that Crytivo and Soda Den have decided to part amicably on mutually beneficial terms.
Unfortunately, now it will not be possible to find out who exactly was responsible for the current situation and whose greed led to the conflict.
IN Roots of Pacha can explore the vast world divided into biomes, tame different animals, study technology, fish, explore caves with riddles, develop a settlement, form relationships and play many mini-games. This is all possible in co-op.
Source : Shazoo

For more updates, visit our site: esportschimp.news which is an online news platform that covers breaking news, event coverage, opinion pieces, reviews, interviews, and much more from the esports world.
I have over 10 years of experience in the news industry, working for various news websites. I am also an author at Esports Chimp, where I cover gaming news. I have a deep passion for video games and esports, and my goal is to provide accurate and up-to-date coverage of the gaming world.