Night comes to Apex Legends, and with it the messengers of death. To cope, however, you have a new deadly weapon at your disposal: a Rev headbutt that you can hurl at your enemies in Trio Colpi di testa(ta), the new limited-time mode. Then you can explore a hellish World's Edge in the Revelations collection event, available from September 19 to October 3. And don't forget to unlock the 24 new cosmetic items at the end of the event to get "Razor Blade", the new Fuse heirloom.
How the new Trio Headshots mode works
A new explosive is on the way: the Rev warhead. For a limited time, you can blast enemy squads to bits with a targeting grenade that's as disturbing as it is dangerous. If you grab one and throw it in the air, you'll see it find a target and then deal devastating damage. But be careful: enemy Legends will always be able to hit and destroy it to cause an early explosion. Trio Colpi di testa(ta) will be available for the entire duration of the Revelations event, from September 19 to October 3, 2023.
Night falls on World's Edge
Borders of the World is dressed in the colors of the night, lit only by lava and the glitter of water. Shrouded in darkness, the map will transform into a spooky battlefield, with some adjustments to key points of interest. Enter Torment Depot at your own risk and battle around a ghostly train, or warm up next to the Research Station in all its fiery glory. But beware of the lava: it's every MRVN's worst nightmare and it could be yours too.
Here are the new collection items for Apex Legends Revelations
During this new event you can unlock 24 exciting cosmetic items, including new legendary skins for Fuse, Bloodhound and more. Each item will be available for direct purchase (with Apex Coins or Crafting Metals) and in Revelations Packs throughout the event.
If you unlock all limited-time cosmetic items at the end of the event, you will automatically receive "Razor Blade", Walter "Fuse" Fitzroy Jr.'s new heirloom.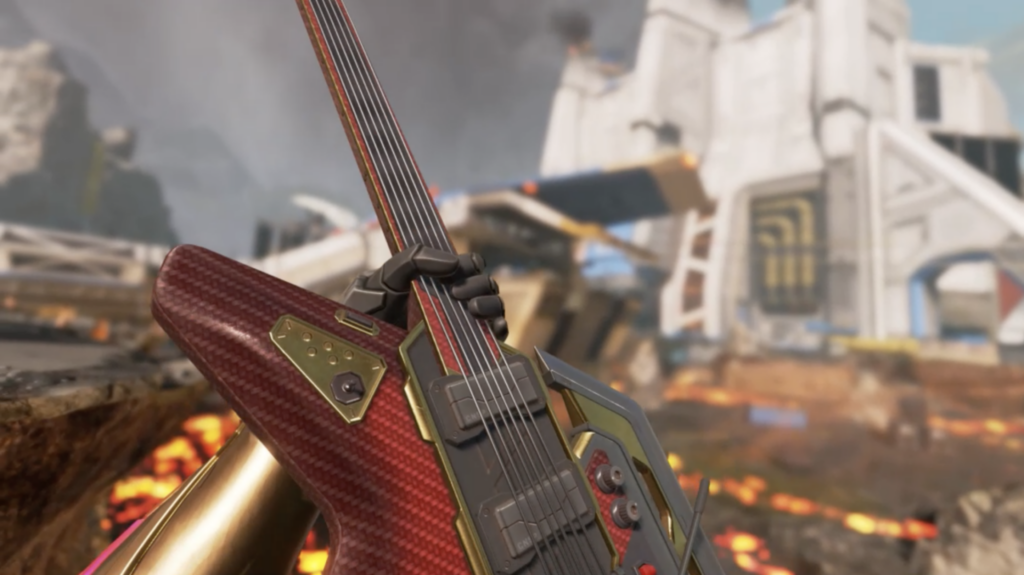 Reward counter for Apex Legends Revelations
You can earn a maximum of 1,400 points per day. The challenges change every 24 hours and are cumulative with the Battle Pass, so you can complete more than one at a time. Take on additional skill challenges to unlock three unique versions of the Revelations badge. Collect them all to get a fantastic final badge.
From September 19 to 22, you can get the "Onboard Entertainment" launch emote for Valkyrie, the "Soldier of Justice" bundle, the "Thrill of the Hunt" skin, the "Elegant Mechanics" skin, and three legendary bundles: "Paladin of Death", "Hidden Curse" and "Super Healer" (bonus).
From September 22 to 26, you can unlock the launch emote "Crazy" for Loba, the battle emote "Last Word" for Lifeline, and five legendary bundles: "Death Paladin", "Hidden Curse", "Trick and Deception" (bonus), "Holy Deity" (bonus) and "Dawn".
From September 26 to 29, you can unlock the "Full Skate" launch emote for Seer, the "Lyrical Aquamarine" bundle, and five Legendary bundles: "Death Paladin", "Hidden Curse", "Neon Spectre" (bonus), "Omatsuri's Fury" (bonus) and "Mōori Warrior".
From September 29 to October 3, you can unlock the launch emote "Hack and slash" for Crypto, the battle emote "Mirage massage" for Mirage and five legendary bundles: "Death Paladin", "Hidden Curse", "Pearl of Olympus", "Unchained " and "Frozen".
Here are the balance sheet notes accompanying the update
The 30-30 Repeater is added to the Replicators along with the RE-45 with Shield Piercing, while Mozambique and Nemesis are added back to the ground loot. The difficulty of autoplay in orienteering games has been reduced and the high-level armor reserves of the various points of interest (e.g. in the center of the Countdown area in World's Edge) have been redistributed across the total loot
As for the legends:
Molten
Cluster bomb
Increased the activation speed of the tactical ability
Horizon
Gravity lift
Reduced weapon accuracy when using gravity lift (increased shot spread)
Climb speed reduced by 20%
Time spent at the top of the gravity lift has been reduced to 0.5 seconds (previously 2.0)
Wal
Reinforced coverage
Positioning times reduced to 2 seconds (previously 3)
Rampart now remains in fixed mode after placing a barrier
Revenge
Shadow Forge
The time extension previously caused by the has been reduced to 5 seconds (previously 10).
KO. Once the Shadow Shield is destroyed, any excess damage is dealt to Revenant
Shadow jumped
The skill's angle compensation has been slightly increased when the Legend is looking at the ground
– by Riccardo Lichene
---
© ALL RIGHTS RESERVED
Source : Corriere Dello Sport
I have over 10 years of experience in the news industry, working for various news websites. I am also an author at Esports Chimp, where I cover gaming news. I have a deep passion for video games and esports, and my goal is to provide accurate and up-to-date coverage of the gaming world.