18/09/2023 [15:15],

Dmitri Rud

After announcing the release date, the developers of the Owlcat Games studio (Pathfinder: Kingmaker, Pathfinder: Wrath of the Righteous) have summarized the beta testing of their role-playing game Warhammer 40,000: Rogue Trader.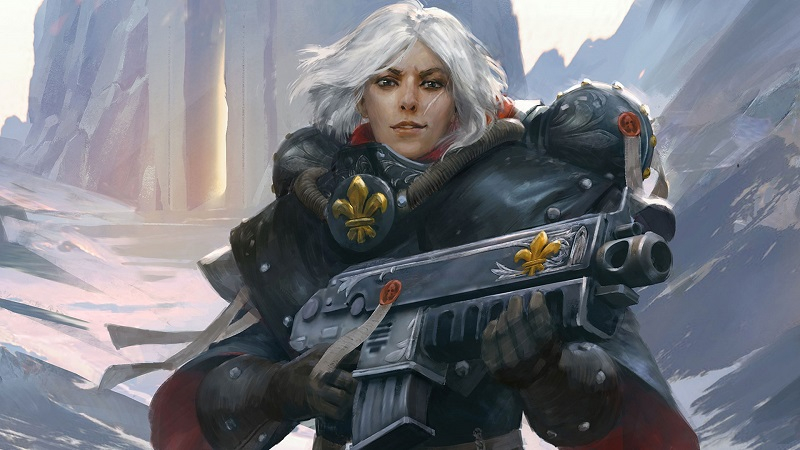 Let us remind you that Rogue Trader's closed beta took place over the summer. More than 5,000 people took part in the official survey based on the test results (521 in the case of "alpha"), which gave the game an average rating of 4.3 points (4.35).
Specific ratings of various aspects of the game (values ​​based on the results of "alpha" are indicated in brackets):
ground combat – 4.2 (3.94). Authors "carefully analyzed" frequency and duration of battles and plan to revise some of them for release;
space battle – 3.7 (3.4). Owlcat emphasized that there is still something to work on (combat variability, number of training tips, management of officer stations on the ship, bug fixes);
space exploration – 4.1 (3.9). The studio noted that the vast majority of players "they investigate everything that catches their eye";
colony management – 3.4. The developers are working on training, improving the interface, balance, reaction to decisions and the player's origins in the events of the colonies. By popular demand, the need to personally fly over Koronus to collect rewards has been removed;
world map – 3.93. They promise to add hints and more text warp events, improve the visual component, and revise the number and complexity of combat events during flights;
locations – the creators have eliminated the lack of grimdark, which the "alpha" participants complained about. Prologue and Electrodynamic Abode received no less than 4.42 and 4.41 points. Eurak-V, Inquisition Ship Ruins and Adeptus Administratum Palace were also popular, with Commorragh locations scoring around 4.0 each.
In addition, the developers talked about player reactions to other key elements of Rogue Trader:
The authors explained frequent complaints about the small number of responses from companions and NPCs to the player's decisions and misplaced belief tags (or lack thereof) in dialogues due to the incomplete implementation of these mechanisms in the beta version;
more than half of respondents actively used training tips (there will be more before release), and the glossary proved useful for more than 90% of respondents;
Players are generally happy with the difficulty, but some would like a bit more difficulty at the intermediate level;
the most popular doctrine (class) was the marksman, and the least popular was the adept;
Overall, gamers liked the updated interface. The exceptions were leveling up screens (they will increase the skill selection window and add skill leveling), cargo and loot, aiming indicator and complex formulas in skill descriptions and the battle log;
the trading, profit factor and reputation systems turned out not to be intuitive enough – the creators added educational tips and improved their interface;
splash videos on the game engine were loved by players, despite the inability to skip them (this option has already been added) and strange and/or broken animations (being fixed);
the most popular companion, as in 'alpha', was Argenta – the Sister of Battle collected all possible prizes in all possible categories. Jai and Idira are once again at the forefront as the studio strives to make them more interesting, both in terms of gameplay and story.
Finally, Owlcat revealed a few stats from the Warhammer 40,000: Rogue Trader beta:
72% of players preferred standard difficulty;
68% of users identified themselves as hardcore CRPG fans;
36% of respondents chose the world of death for their loved ones;
25% of respondents chose the Imperial Guard (Astra Militarum) as their background;
Four gamers had never heard of Warhammer 40,000 before Rogue Trader.
"We once again thank our community for participating in the study. Thank you for your help and involvement! It's your comments and feedback that help us make the game better, more interesting and as close to canon as possible."said Owlcat.
Warhammer 40,000: Rogue Trader will be released on December 7 on PC and macOS on Steam, GOG and Epic Games Store, as well as on PS5, Xbox Series X and S. They promise romances with companions, co-op and graphics on the Unity engine and Russian language support .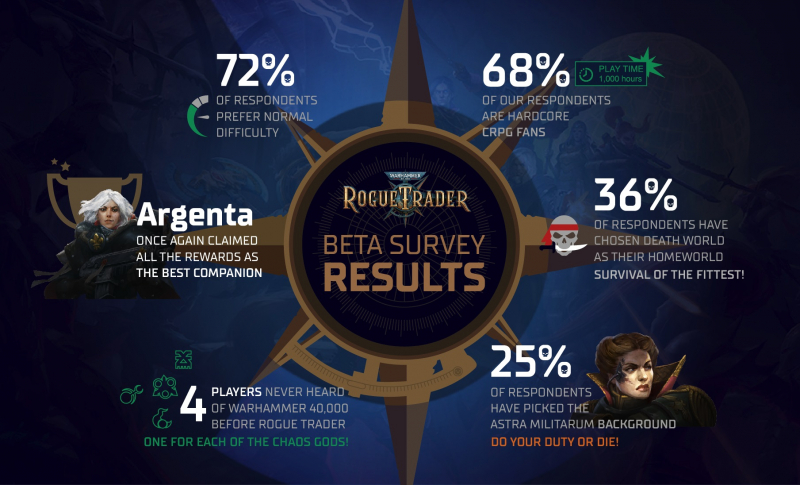 Source : 3D News
I have over 10 years of experience in the news industry, working for some of the biggest names in the business. I'm now using my skills and knowledge to help run a successful news website called Esports Chimp.
I have a real passion for gaming and have been writing about it for many years. I'm lucky enough to be able to combine my two loves by writing about gaming news for our website. I hope to continue doing this for many years to come!