During the night of September 18 to 19, a lot of information from Microsoft and the Xbox division flowed onto the Internet via the US Federal Trade Commission. It turned out that the regulator forgot to edit the documents, causing much secret information to become public.
In particular, a document showing a schedule of Xbox game releases was made public. The document is dated 2020, so some titles have been postponed or released later. Some haven't been announced yet, so there's a good chance they'll be canceled entirely.
The release schedule includes a remaster of The Elder Scrolls IV: Oblivion, DOOM Year Zero and DLC for that, some Project Kestrel and Project Platinum, a remaster of Fallout 3, a sequel to Ghostwire: Tokyo and the third part of Dishonored. .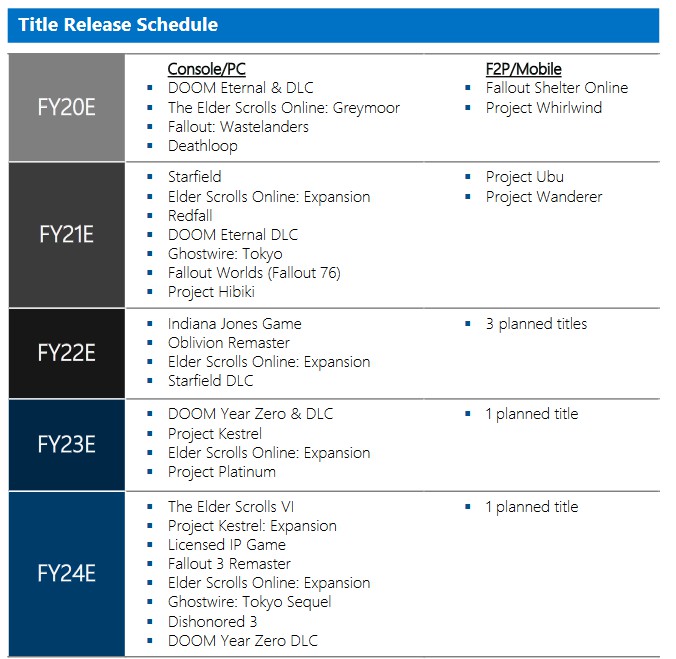 As you can see in the image, some titles were scheduled to be released much earlier than their actual release. For example, Starfield was expected to be released in fiscal year 2021, and the Indiana Jones game and the Oblivion remaster in 2022.
Source : Shazoo

For more updates, visit our site: esportschimp.news which is an online news platform that covers breaking news, event coverage, opinion pieces, reviews, interviews, and much more from the esports world.
I have over 10 years of experience in the news industry, working for various news websites. I am also an author at Esports Chimp, where I cover gaming news. I have a deep passion for video games and esports, and my goal is to provide accurate and up-to-date coverage of the gaming world.