Players inside Baldur's Gate 3 PS5 faced another problem, besides the disgusting optimization of the third company. For some gamers, the game started crashing when they tried to load save files. The error turned out to be so widespread that the developers began to investigate the situation and provide some advice: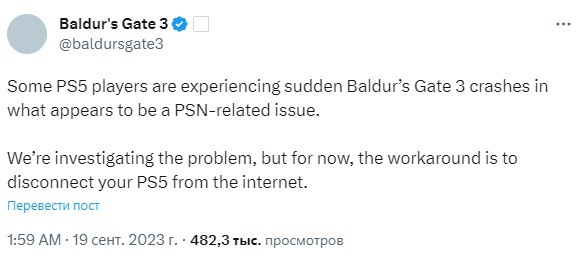 Some PS5 players experience sudden crashes Baldur's Gate 3, which seems to be related to PSN. We are investigating the issue, but in the meantime the solution may be to disconnect your PS5 from the internet.
Meanwhile, evaluation of the PS5 version Baldur's Gate 3 on Metacritic it is equal to the PC version's score and is 96 points out of 100.
Baldur's Gate 3 available on PC and PS5. Larian is also working hard on an Xbox Series X/S version of the game.
Source : Shazoo

For more updates, visit our site: esportschimp.news which is an online news platform that covers breaking news, event coverage, opinion pieces, reviews, interviews, and much more from the esports world.
I have over 10 years of experience in the news industry, working for various news websites. I am also an author at Esports Chimp, where I cover gaming news. I have a deep passion for video games and esports, and my goal is to provide accurate and up-to-date coverage of the gaming world.