On June 7, the world of esports mourned the death of one of the most promising VALORANT players, the Czech Karel Ašenbrener, better known as Twisten, at the age of 19.
News that is always difficult to write, but unfortunately repeated a few months later. KRÜ Esports, a professional esports team based in Argentina, has brought the worst news with one of its players.
Santiago'daveeysGalvis passed away on Sunday, September 3, his birthday, at the age of 23 due to a decompensation as confirmed by the Argentina team itself.
It is with great sadness that we have to inform you that he passed away after a decompensation on Sunday @Daveeys21There is no way to mitigate this, it took us all by surprise. Daveeys, Santi, was a spectacular player and first class teammate. With its function… pic.twitter.com/muuHmBfCII

— KRÜ Esports (@KRUesports) September 4, 2023
While no details about the cause of his death have been given, a decompensation is something like heart failure, so the player would have had a problem with pumping blood from his heart.
The Colombian player had played the last VALORANT World Cup with KRÜ and finished in 13-16th place, although that is the least important as Daveeys fulfilled his dream of playing at the highest level.
KRÜ did that too shared a statement from his entire family, thanking them for attending a ceremony in his honor that will be held in Colombia in his hometown on September 4.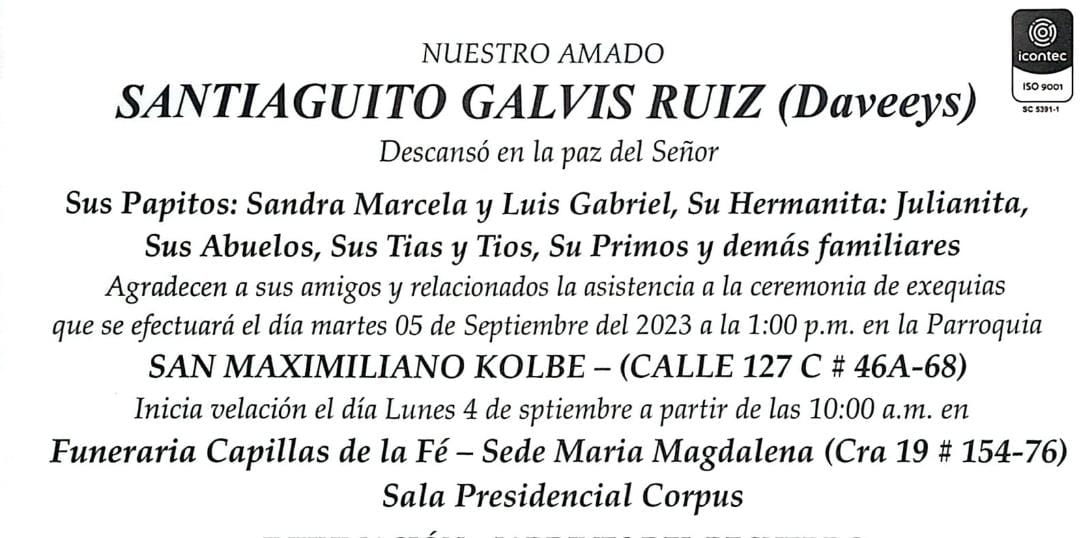 Rest in peace DaveeyS, I can't believe it…

— Heretics m1xwell (@Mixwell) September 4, 2023
I'm in shock, can't believe it… 22 years of pure talent, rest in peace Daveeys. A big hug to all your friends, colleagues and especially your family ❤️ pic.twitter.com/NAlt2GEcBi

— Oriol Ruiz Padulles (@Urii_rp) September 4, 2023
Personally, Daveeys was a person I was used to seeing on the stream. When I played in Denial with Blue in his Counter-Strike days I followed his games and he always seemed like a crack to me, and when I first saw him in person in Los Angeles I didn't… pic.twitter.com/SNtnHAOAWA

—Kevin Aiello (@kevoesports) September 4, 2023
It can't be true… I have no words, sorry. I just write and delete, write and delete. How hard is this for me? You are a hero Daveeys, always will be. https://t.co/nFAMC8pnjX

— Dryad (@DanDryad) September 4, 2023

The community has turned to KRÜ and the Santiago family, with a myriad of interactions and encouragement for players and friends. We wish him rest in peace and our sincere condolences to his family.
Source: Esports AS
I have been working in eSports Chimp for almost 5 years now. I have written different types of articles but I mostly focus on gaming news. It has always been my dream to work in eSports Chimp and I am grateful that I am able to do so.
I grew up playing video games and it has always been one of my passions. When I was younger, I never thought that I would be able to make a career out of it. But now, I am able to write about games and share my passion with others through my work.
I believe that there is a lot of potential in the world of eSports and I am excited to see how it grows in the future.